Welcome to the
Carnival of Cinema
, a weekly display of the best cinema-related posts submitted from around the globe. This week we have another great batch of posts, mostly film reviews.
Starting us out we have a pair of reviews covering Oliver Stone's latest
W
.
First in line is
SIZZLING POPCORN's
Jean Brunet who says "
The opening scene of the film made the audience and myself laugh as the acting of the look-a-likes are reminiscent of the political skits from Saturday Night Live...
" For more click over to his site.
MANNY THE MOVIE GUY
has also seen the movie and
carries a review this week
.
Since we're starting out with kicking the current administration around, let's move on to a policy statement, brought to you by our friends in the entertainment industry.
Instead of reviewing
W.
, M. talks about
In the Valley of Elah
.
Does

In the Valley of Elah

hit it out of the park?
Get to know all about it by clicking over to
MS. SMARTY PANTS KNOW IT ALL
.
Just like M, Darrell avoids
W.
and instead
sticks with reviewing

M
. Over at
THE SOUTHERN CONSERVATIVE
, Darrell has a review of Fritz Lang's classic.
We've looked at a movie that talks about political policy goes wrong and another about Germans. Hmmm...Germans and bad political policy...were has that come up before..?
The latest Holocaust film
The Boy in the Striped Pyjamas
gets reviewed by Joseph Ewens on his site
JOYOUS FILM REVIEWS
. It's a film about the son of a commandant at a concentration camp who befriends one of the Jewish prisoners.
Not sure I can make a comfortable transition here so we'll just plow ahead and let you come up with your own conclusions...
Mel Gibson made a movie.
Apocalypto

tells the tale of young Jaguar Paw who does his best to avoid the brutal machina
tions of the Mayan Empire
. Want to know more? Ruth Mitchell has the low down over at
BUY OUTSIDE THE BOX
.
We're getting a little heavy here so let's shake things up with the quote of the week.
"
...the interchange of bodily fluids is the culmination of a process at whose heart is emotional infidelity.
"
Ewww.
Got to know how that fits into a review of the classic
Brief Encounter
? Gracchi has the post over at
WESTMINSTER WISDOM
. While you're there you can also catch a review of the
Depression Era film

Workers and Jobs

.
And now for some movies from the Second Depression Era.
Twilight
is coming out next month.
Wanna see the trailer?
Then head over to
WIFELY STEPS
, Toni has it posted for you.
Quantum of Solace
is coming out next month.
Wanna see the trailer?
Then head over to
CRITICKER MOVIE BLOG
,
Vincente has it posted for you.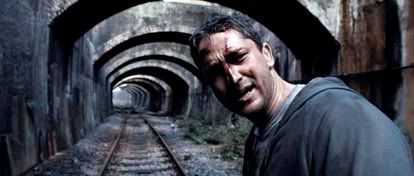 RocknRolla
is coming out at the end of the month.
Wanna read some thoughts on it?
Then head over to
SEAN KELLY ON THE MOVIES
where Sean Kelly speaks about the movie.
Taking things way off in the oddball land is Mike Emmons with his post titled "
Kermit the Frog is a Murderer
". Jim Henson's company is apparently considering making a violent, adult version of the Muppets. Yep. Head over to
SHARK VS. ROBOT
for the story.
Hey, do you like movies about holes? Sure, who doesn't? Good news, the latest hole-related movie is currently in production and it's going to be in 3-D. So, it will revolve around a hole where we're going to get a real sense of depth. To find out what the heck I'm talking about
check out Jim Dorey's piece about Joe Dante's piece about a hole
at Jim's site
MARKETSAW: 3-D MOVIES AND TECHNOLOGY
.
When a film review begins with "
All right, where do I start with this movie? I thought that most of it didn't make any sense at all
" you know it's not going to end pretty. But yet, Miss Positive apparently lives up to her name. To read her review of August Rush click on the link to visit her site
OUR CHOCOLAT
ES
.
Our Chocolates? Heck no. There's no "our" chocolates. When it comes to chocolate. It's MY chocolates and you're watching me eat MY chocolates. There's no "our" here. Our Chocolates - yeah, in your dreams.
Next, under the heading "glad you saw it cuz I sure as heck ain't gonna do it" we have a post about
the 1983 adaptation of Gilbert and Sullivan's

The Pirates of Penzance
from Margaret of
THE EARTHLY PARADISE
.
One person's slice of hell is the other guy's slice of heaven I guess.
Speaking of slices of hell, did you see
Indiana Jones and the Kingdom of the Crystal Skull
? If you think the title is stupid, wait until you get a load of the first act!
If you want to read a bit more about the movie and/or want to read a bit more about its star Harrison Ford, Tamika M. Murray has the post for you
. Hurry over to
PJS AND A MOVIE
for her brief thoughts on the aged action star.
"
I really enjoyed the movie and feel like paisa vasool
". Really, that's all you need to know, but if I'm off and you do need to know more, read Switch2Life's review of
Jaane Tu...Ya Jaane Na
over at
MOVIE REVIEWS
.
Under the heading "glad you saw it cuz I'm running low on No-Doze" Keira has
a review of the adapatation of Jane Austen's

Mansfield Park
. For more, hop over to her site
LOVE ROMANCE PASSION
.
Steering away from love, romance and/or passion and move on to "
violence, sex and little substance.
" Check out what else Missy has to say about the movie
Pathology
on her site
OBSERVATIONS FROM MISSY'S WINDOW
.
If you like movie reviews you're going love Trench. Trench offers up a cornucopia of reviews over at
7MILESDOWN
. Click on the links to check out opinions on
Walker Payne
(starring Sam Shepard),
Eagle Eye
(not starring Sam Shepard),
Deception
(which also doesn't star Sam Shepard) and
88 Minutes
(which stars Al Pacino's hair).
Finally, we have non-movie review posts. Mac of
ACTORLICIOUS
posts
an interview with actor Jeremy Piven
.
Last but not least, Nicola Marzano has
a clip for

Johnny Cool

(starring Henry Silva...and Sammy Davis Jr. as Educated)
and also offers you
a catalog of podcast
s
from
BEYOND THE EXPOSITION
.
...and CUT and PRINT.
Thanks to everyone for their submissions and welcome to all of the new faces this week.
Other carnival editions:
Carnival of Cinema: Episode 29
Carnival of Cinema: Episode 39
Carnival of Cinema: Episode 43