Welcome to the Carnival of Cinema, a weekly roundup of the best film-related posts, submitted from around the globe.
This week we start the show with Steve from
KWANZOO
interviewing
screenwriter and web-comic creator Michael Le
. Its a brief but interesting interview, well worth checking out.
Tropic Thunder
is getting a lot of coverage this week as it heads into theaters. Ben Stiller's latest cinematic deposit is all the buzz. Its best to get your interest in the film satisfied early. All of the excitement will be gone once people sit down, watch the movie, and realize...oh that's right, it's a movie where Ben Stiller has creative control - it isn't funny.
For a lighter view of Stiller's flick, go read
Manny the Movie Guys's review of the film
over at his site
MANNY THE MOVIE GUY
.
Need more opinion on what Stiller and crew are up to?
You can also head over to Sean Kelly's site,
SEAN KELLY ON MOVIES
.
Sean offers up his thoughts on th
e movie.
Sean then gives
his opinion on the new comedy

Pineapple Express
.
We now go from
Tropic Thunder
to
Pineapple Express
, what's next
Pina Colada Hurricane
?

Vaprak is the next to take on

Pineapple Express
. Over at his site
THE CRITICAL CRITICS
, he states that the film has "memorable quotes to quote".
Here are some notable quotes from the film according to IMDb:
"
#!@% Jeff Goldblum!
"
"
Angie, you're a #!
@% idiot. I say that with love.
"
"
Hey look, it's like my thumb is my #!@%.
"
"
Here, supersize it, "#!@%.
"
"
Best #!@% friends forever, man!
"
To quote
A Fish Called Wanda
: "
You're a true vulgarian, aren't you?
"
Here are ten times when you do not want to quote
Pineapple Express
:
1. During a job interview
2. At the urinal in a public men's bathroom
3. While walking late into church service
4. At the end of a first date
5. During a hernia exam
6. In a packed funeral parlor
7. At your daughter's birthday party
8. In response to people who say "good morning"
9. In your final will and testament
10. During your Presidential Inauguration speech
Something else you want to avoid is taking advice from a Playboy Bunny - usually, women who pose nude are prone to poor decision making.
The comedy

The House Bunny

has a model belching out life lessons to a gaggle of misfits.
For more on this flick click over to Missy's site
OBSER
VATIONS FROM MISSY'S WINDOW
.
Since we're talking about potheads and bimbos, we may as well listen to what a thick-necked, beef block has to say.
Believe it or not, someone is quoting

Conan the Barbarian
. Brad has a quote, and some quick words on the upcoming remake of Conan over at his site
FANTASY QUOTES
.
Fantasy quotes? Here's my fantasy quote:
"We have decided to stop making movies and leave the industry" - Ben Stiller, Robert Rodriquez, Uwe Boll, Quintin Tarantino, Michael Moore, Morgan Spurlock, Adam Sandler, Kevin Smith, Eli Roth, Judd Apatow, The Wayan Brothers, Rob Schneider, Wes Anderson, Lindsay Lohan, Robin Williams, The Wachowski Brothers and George Lucas.
Moving along, we're talking movies on the Internet so we gotta talk about
The Dark Knight
.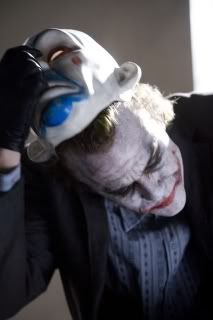 Darrell
THE SOUTHER CONSERVATIVE
has a post that compiles some views that discuss
the philosophical subtext of

The Dark Knight's

version of The Joker
. He also provides
a review of the film

Before Night Falls
.
Next up, Trench discusses how
The Dark Knight

, while successful, is not going to over take

Titanic

as the biggest movie of all time
. Trench follows his up with a look at the uncut version of
Knocked Up
over at
7 MILES DOWN
.
The final Dark Knight post of the week comes from Hector Calles of
ILLUSTRATED MOVIE REVIEW BLOG
. That's right, Hector serves up
an illustrated movie review for your reading pleasure
.
Let's move on to some stuff that is unrelated to each other
At
RIDING WITH RICKEY
, you can get the lowdown on some of the movies that you may missed so far.
He has quick reviews of

Pineapple Express

,

X-Files: I Want to Believe

and

Step-Brothers
.
Like Harry Potter? GrrlScientist has
an online poll for all those Harry Potter movie posters -- choose your favorite! And you can only vote once, so choose carefully.
To make your pick go over to her site
LIVING THE SCIENTIFIC LIFE
.
Our next item I don't have a proper transition to introduce is from Mike Blitz of
KABOOM REVIEW
. This week Mike lets you know
what he thinks about the scrawny Angelia Jolie's latest cinematic effort

Wanted
.
When someone submits a post to the Carnival of Cinema, they're asked to fill out a small form giving their link and explaining the post. The only remark
THE REVIEWER
had for
his review of

Star Wars: The Clone Wars

was "The Clone Wars sucked!"
Point taken.
Water is moist, the Sun is toasty and a movie related to George Lucas sucks.
Speaking of alien worlds, ever been to Ohio? And you thought the creatures in the Mos Eisley catnina were odd. On the site
INTELLIGENT TRAVEL
, John Ur continues his
cinematic road trip series with a stop in the state where

Traffic

,

American Splendor

and

A Christmas Story
were filmed.
Want to know more about how
Warner Bros. is helping out the continuing rebuilding of New Orleans by leveraging their film

The Sisterhood of the Traveling Pants 2
? Head over to
WOMAN TRIBUNE
for the news.
We close this week by looking at how to open.
Ibetolis has an on-going feature,
Now, That's How You Open a Movie

that showcases great film introductions
. To view the sixth in the series go over to
FILM FOR THE SOUL
.
…and CUT!…and PRINT!



Thanks to everyone for their submissions. Another great week of posts.
Do you have an opinion or article about the film industry? Have you reviewed a film or DVD? Have any tips on breaking into the biz? Send submissions
HERE
for next week's edition.

Be the first blog on your street to post in the
Carnival of Cinema
.
Some other Carnival editions:
Carnival of Cinema Episode VIII
Carnival of Cinema Episode IV
Carnival of Cinema Episode X
Carnival of Cinema Episode XII